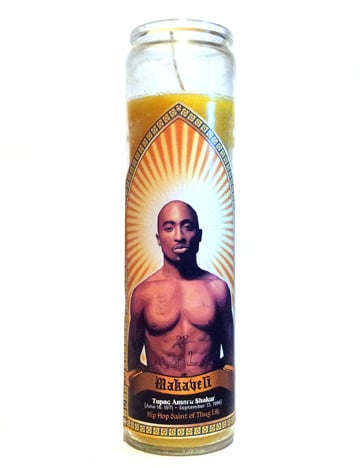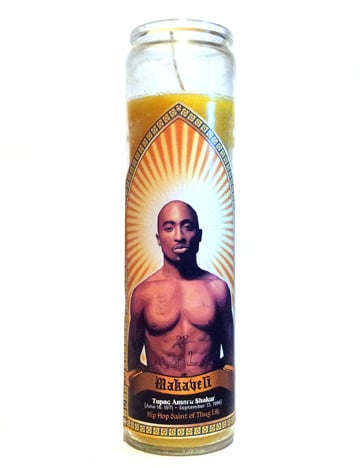 Makaveli aka 2Pac
$12.00
Tupac Amaru Shakur
June 16, 1971 – September 13, 1996
Shakur was shot multiple times in a drive-by shooting at the intersection of Flamingo Road and Koval Lane in Las Vegas, Nevada. He was taken to the University Medical Center of Southern Nevada, where he died six days later at the young age of 25.
Tupac, whose real name according to relatives was Lesane Parish Crooks, was born in the East Harlem section of Manhattan in New York City. He was named after Túpac Amaru, an 18th-century Peruvian revolutionary who was executed after leading an indigenous uprising against Spanish rule.
His mother, Afeni Shakur (born Alice Faye Williams), and his father, Billy Garland, were active members of the Black Panther Party in New York in the late 1960s and early 1970s. The infant was born a month after his mother was acquitted of more than 150 charges of "Conspiracy against the United States government and New York landmarks" in the New York "Panther 21" court case.
Shakur lived from an early age with people who were involved with the Black Liberation Army and convicted of serious criminal offenses and who were imprisoned. His godfather, Elmer "Geronimo" Pratt, a high ranking Black Panther, was convicted of murdering a school teacher during a 1968 robbery, although his sentence was later overturned. His stepfather, Mutulu, spent four years at large on the FBI's Ten Most Wanted Fugitives list beginning in 1982. Mutulu was wanted for having helped his sister Assata Shakur (also known as Joanne Chesimard) to escape from a penitentiary in New Jersey. She had been imprisoned for killing a state trooper in 1973. Mutulu was caught in 1986 and imprisoned for the robbery of a Brinks armored truck in which two police officers and a guard were killed. Shakur had a half-sister, Sekyiwa, two years his junior, and an older stepbrother, Mopreme "Komani" Shakur, who appeared in many of his recordings.
Shakur, accompanied by one of his friends, Dana "Mouse" Smith, as his beatbox, won many rap competitions and was considered to be the best rapper in his school. He was remembered as one of the most popular kids in his school because of his sense of humor, superior rapping skills, and ability to mix with all crowds.[34] He developed a close friendship with a young Jada Pinkett (later Jada Pinkett Smith) that lasted until his death.
In June 1988, Shakur and his family moved to Marin City, California where he attended Tamalpais High School in Mill Valley. He began attending the poetry classes of Leila Steinberg in 1989. That same year, Steinberg organized a concert with a former group of Shakur's, "Strictly Dope"; the concert led to him being signed with Atron Gregory. He set him up as a roadie and backup dancer with the hip hop group Digital Underground in 1990.
Shakur's professional entertainment career began in the early 1990s, when he debuted his rapping skills in a vocal turn in Digital Underground's "Same Song" from the soundtrack to the 1991 film Nothing but Trouble and also appeared with the group in the film of the same name. The song was later released as the lead song of the Digital Underground EP. This was the follow-up to their debut hit album Sex Packets. Shakur appeared in the accompanying music video. After his rap debut, he performed with Digital Underground again on the album Sons of the P. Later, he released his first solo album, 2Pacalypse Now. The album's name is a reference to the 1979 film Apocalypse Now. The record was important in showcasing Shakur's political conviction and his focus on lyrical prowess.
His second studio album, Strictly 4 My N.I.G.G.A.Z., was released in February 1993. The album contains many tracks emphasizing Shakur's political and social views. This album had more commercial success than its predecessor, and there were noticeable differences in production. While Shakur's first effort had an indie-rap-oriented sound, this album was considered his "breakout" album. It spawned the hits "Keep Ya Head Up" and "I Get Around" and reached platinum status. On vinyl, Side A (tracks 1–8) was labeled the "Black Side" and Side B (tracks 9–16) the "Dark Side".
In late 1993, Shakur formed the group Thug Life with a number of his friends, including Big Syke, Macadoshis, his stepbrother Mopreme Shakur and Rated R. The group released their only album Thug Life: Volume 1 on September 26, 1994, which went gold. The album contains ten tracks because Interscope Records felt many of the other recorded songs were too controversial to release. Although the original version of the album was not completed, Shakur performed the planned first single from the album, "Out on Bail" at the 1994 Source Awards.
All Eyez on Me was the fourth studio album by 2Pac, released on February 13, 1996 by Death Row Records and Interscope Records. The album is frequently recognized as one of the crowning achievements of 1990s rap music. It was certified 5× Platinum after just 2 months in April 1996 and 9× platinum in 1998. The album featured the Billboard Hot 100 number one singles "How Do U Want It" and "California Love". It featured 5 singles in all, the most of any 2Pac album. Moreover, All Eyez on Me (which was the only Death Row release to be distributed through PolyGram by way of Island Records) made history as the first double-full-length hip-hop solo studio album released for mass consumption. It was issued on two compact discs and four LPs.
Makaveli – The Don Killuminati: The 7 Day Theory, commonly shortened to The 7 Day Theory, is his fifth and final studio album and was released under the new stage name Makaveli. The album was completely finished in a total of seven days during the month of August 1996. The lyrics were written and recorded in three days and mixing took an additional four days.
In addition to rapping and hip hop music, Shakur acted in films. He made his first film appearance in the motion picture Nothing but Trouble, as part of a cameo by the Digital Underground. His first starring role was in the film Juice. In this film, he played Roland Bishop, a violent member of the Wrecking Crew. He then went on to star in Poetic Justice and Above the Rim. After his death, three of his completed films were released: Bullet, Gridlock'd, and Gang Related.
All Eyez will definitely be on this candle when you having it burning on your shelf. Honor a legend and get yourself one